Our clients have embarked on their journey of realising their dream home in a stunning and picturesque location. They had the vision of demolishing the bungalow that once stood on this land they purchased, to build their 5 bedroom, timber framed home which has fantastic panoramic views of the South Downs.
Parkgate Construction were instructed by our client to undertake and project manage the entire build and demolition. After having met with our clients several times on site with Scandia-Hus, and having discussed their requirements, we jointly put a package together with Parkgate Construction breaking down the build time, the product choice deadline schedule, payment schedule as well as a schedule of works with timings and who will be on site when. All this is so the client should experience an enjoyable build process and we are able to ensure that by managing the project, and applying a hand held process with the client, communication and organisation are on point.
The build spec is 5 bedroom, 6000 sq foot with an internal swimming pool. The build should take a year and Parkgate Construction, as well as managing the project, work alongside our carefully selected Sub-Contractors all picked from our Approved Sub Contractors database. Kenward Groundworks kicked off the project by successfully completing the demolition and foundations in readiness for the arrival of the timber frame from Scandia-Hus. Once the foundations were finished and the frame was up, phase 1 was efficiently completed, keeping to schedule including the scaffolding up, block and beam floor finished (as part of the foundations).
Phase 2! This phase is when our clients could really see their dream home coming together and taking shape.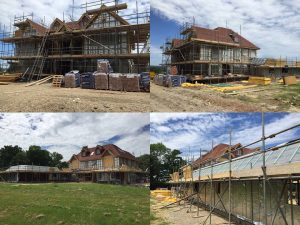 As you can see from the images, the roofing is completed and the pool house has been built. The brickwork is now underway and the first fix carpentry is complete and the wiring is now commencing.
Keep coming back to visit us to see the latest update on this beautiful home!